Playing At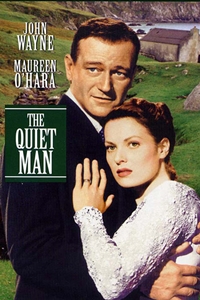 The Quiet Man
(NR)
Rated NR
This movie has not yet been rated by the MPAA.
Rated G
Nothing that would offend parents for viewing by children.
Rated PG
Parents urged to give "parental guidance." May contain some material parents might not like for their young children.
Rated PG-13
Parents are urged to be cautious. Some material may be inappropriate for pre-teenagers.
Rated R
Contains some adult material. Parents are urged to learn more about the film before taking their young children with them.
Rated NC-17
Clearly adult. Children are not admitted.
Release Date:
August 14th, 1952
Run time:
2 hr. 9 min.
Director:
John Ford
Genres:
Drama, Romance
Starring:
John Wayne, Maureen O'Hara, Barry Fitzgerald, Ward Bond
The Quiet Man tells the story of an Irish-American Prizefighter, who after killing an opponent in the ring, returns to Ireland in search of the quiet life. After buying back his ancestral home, he falls out with the local Squire and falls in love with the Squire's sister, which leads to the longest fist fight in cinematic history - far from the quiet life he envisioned!