Playing At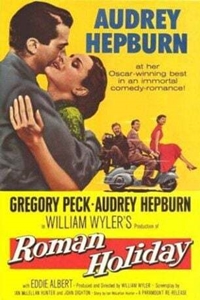 Roman Holiday
(NR)
Rated NR
This movie has not yet been rated by the MPAA.
Rated G
Nothing that would offend parents for viewing by children.
Rated PG
Parents urged to give "parental guidance." May contain some material parents might not like for their young children.
Rated PG-13
Parents are urged to be cautious. Some material may be inappropriate for pre-teenagers.
Rated R
Contains some adult material. Parents are urged to learn more about the film before taking their young children with them.
Rated NC-17
Clearly adult. Children are not admitted.
Release Date:
January 1st, 1953
Run time:
1 hr. 59 min.
Director:
William Wyler
Genres:
Drama, Romance
Starring:
Audrey Hepburn, Gregory Peck, Eddie Albert, Harcourt Williams
A princess plays hooky from her royal duties for 24 hours with a reporter. This is one of Hollywood's most sweetly romantic films -- a frothy, modern telling of the Cinderella story, in reverse.