Playing At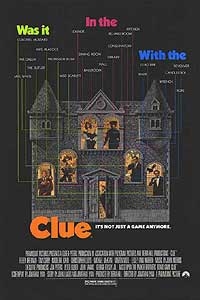 Clue
(PG)
Rated NR
This movie has not yet been rated by the MPAA.
Rated G
Nothing that would offend parents for viewing by children.
Rated PG
Parents urged to give "parental guidance." May contain some material parents might not like for their young children.
Rated PG-13
Parents are urged to be cautious. Some material may be inappropriate for pre-teenagers.
Rated R
Contains some adult material. Parents are urged to learn more about the film before taking their young children with them.
Rated NC-17
Clearly adult. Children are not admitted.
Release Date:
December 13th, 1985
Run time:
1 hr. 34 min.
Director:
Jonathan Lynn
Genres:
Comedy, Drama
Starring:
Eileen Brennan, Tim Curry, Madeline Kahn, Christopher Lloyd
A group of oddball characters assmeble at an old Victorian mansion to play a game of "whodunit."