Playing At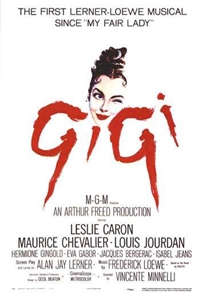 Gigi (1958)
(NR)
Rated NR
This movie has not yet been rated by the MPAA.
Rated G
Nothing that would offend parents for viewing by children.
Rated PG
Parents urged to give "parental guidance." May contain some material parents might not like for their young children.
Rated PG-13
Parents are urged to be cautious. Some material may be inappropriate for pre-teenagers.
Rated R
Contains some adult material. Parents are urged to learn more about the film before taking their young children with them.
Rated NC-17
Clearly adult. Children are not admitted.
Release Date:
May 15th, 1958
Run time:
1 hr. 56 min.
Director:
Vincente Minnelli
Genres:
Comedy, Musical
Starring:
Leslie Caron, Maurice Chevalier, Louis Jourdan, Hermione Gingold
Home, motorcar, servants, the latest fashions: man-about-town Gaston (Louis Jourdan) offers them all to Gigi. But she, who's gone from girlish gawkishness to cultured glamour before our eyes, yearns for something money can't buy.