Playing At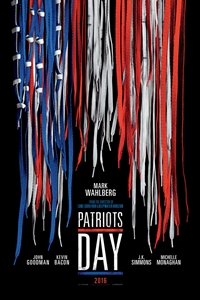 Patriots Day
(R)
Rated NR
This movie has not yet been rated by the MPAA.
Rated G
Nothing that would offend parents for viewing by children.
Rated PG
Parents urged to give "parental guidance." May contain some material parents might not like for their young children.
Rated PG-13
Parents are urged to be cautious. Some material may be inappropriate for pre-teenagers.
Rated R
Contains some adult material. Parents are urged to learn more about the film before taking their young children with them.
Rated NC-17
Clearly adult. Children are not admitted.
Release Date:
December 21st, 2016
Run time:
2 hr. 13 min.
Director:
Peter Berg
Genres:
Drama, Suspense/Thriller
Starring:
Mark Wahlberg, John Goodman, Kevin Bacon, J.K. Simmons
In the aftermath of an unspeakable act of terror, Police Sergeant Tommy Saunders joins courageous survivors, first responders and investigators in a race against the clock to hunt down the bombers before they strike again. Weaving together the stories of Special Agent Richard Deslauriers, Police Commissioner Ed Davis, Sergeant Jeffrey Pugliese and nurse Carol Saunders this visceral and unflinching chronicle captures the suspense of the most sophisticated manhunt in law enforcement history and the strength of the people of Boston that inspired the world.