Playing At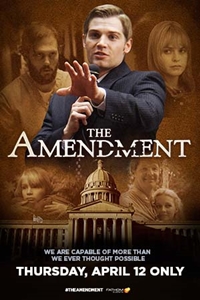 The Amendment
()
Rated NR
This movie has not yet been rated by the MPAA.
Rated G
Nothing that would offend parents for viewing by children.
Rated PG
Parents urged to give "parental guidance." May contain some material parents might not like for their young children.
Rated PG-13
Parents are urged to be cautious. Some material may be inappropriate for pre-teenagers.
Rated R
Contains some adult material. Parents are urged to learn more about the film before taking their young children with them.
Rated NC-17
Clearly adult. Children are not admitted.
Release Date:
April 12th, 2018
Run time:
2 hr. 0 min.
Director:
Genres:
Program
Starring:
"The Amendment," an inspiring true story of tragedy and forgiveness, showcases that we are capable of more than we ever thought possible. This event comes to cinemas nationwide on Thursday, April 12 at 7:00 p.m. local time, from Fathom Events. The true story of Brooks Douglass who survived, along with his sister, an unthinkable attack in his youth that claimed the lives of his parents, Douglass eventually found triumph over tragedy through faith and forgiveness. After the attack, Douglass went on to become the youngest state senator in Oklahoma history and authored fifteen pieces of legislation protecting victims' rights.