Playing At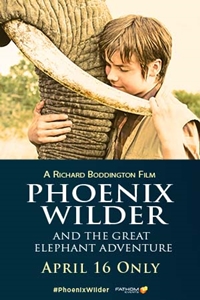 Phoenix Wilder: And The Great Elephant Adventure
()
Rated NR
This movie has not yet been rated by the MPAA.
Rated G
Nothing that would offend parents for viewing by children.
Rated PG
Parents urged to give "parental guidance." May contain some material parents might not like for their young children.
Rated PG-13
Parents are urged to be cautious. Some material may be inappropriate for pre-teenagers.
Rated R
Contains some adult material. Parents are urged to learn more about the film before taking their young children with them.
Rated NC-17
Clearly adult. Children are not admitted.
Release Date:
April 16th, 2018
Run time:
1 hr. 27 min.
Director:
Richard Boddington
Genres:
Program
Starring:
Moviegoers can take a ride through the African plains with two unexpected friends when "Phoenix Wilder: And The Great Elephant Adventure" starring Elizabeth Hurley comes to U.S. cinemas for one night on World Elephant Day, Monday, April 16 at 6:00 p.m. local time. This family-friendly event from Emmy-nominated producer, director and writer Richard Boddington ("The Dogfather," "Against The Wild," "Against The Wild 2") follows a young orphaned boy and his elephant friend on their fight against poaching. Through this remarkable experience, he learns that one person can make a world of difference.