Playing At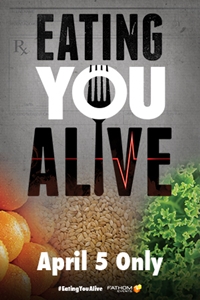 Eating You Alive
()
Rated NR
This movie has not yet been rated by the MPAA.
Rated G
Nothing that would offend parents for viewing by children.
Rated PG
Parents urged to give "parental guidance." May contain some material parents might not like for their young children.
Rated PG-13
Parents are urged to be cautious. Some material may be inappropriate for pre-teenagers.
Rated R
Contains some adult material. Parents are urged to learn more about the film before taking their young children with them.
Rated NC-17
Clearly adult. Children are not admitted.
Release Date:
April 5th, 2018
Run time:
2 hr. 5 min.
Director:
Paul David Kennamer Jr.
Genres:
Documentary
Starring:
Samuel L. Jackson, James Cameron, Andrew W. Saul
Fathom Events is pleased to bring the eye-opening documentary, Eating You Alive, to cinemas nationwide for a special one-night event this April. Explore the dysfunctional relationship Americans have with food and take a scientific look at the reasons we're so sick, who's responsible for feeding us the wrong information and how we can use simple dietary changes to take back control of our health.

This exclusive cinema event features advocates for this nutritional approach to wellness including James Cameron and Samuel L. Jackson, as well as a host of noted healthcare experts. Plus, cinema audiences will be provided with a step-by-step tutorial on how to integrate this lifestyle into your life.