Playing At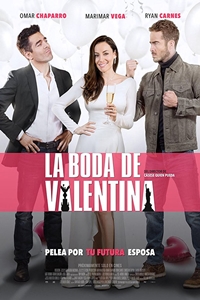 La boda de Valentina
(R)
Rated NR
This movie has not yet been rated by the MPAA.
Rated G
Nothing that would offend parents for viewing by children.
Rated PG
Parents urged to give "parental guidance." May contain some material parents might not like for their young children.
Rated PG-13
Parents are urged to be cautious. Some material may be inappropriate for pre-teenagers.
Rated R
Contains some adult material. Parents are urged to learn more about the film before taking their young children with them.
Rated NC-17
Clearly adult. Children are not admitted.
Release Date:
February 9th, 2018
Run time:
1 hr. 39 min.
Director:
Marco Polo Constandse
Genres:
Comedy, Romance
Starring:
Omar Chaparro, Marimar Vega, Ryan Carnes
Valentina (Marimar Vega) seems to have the perfect life in New York, with a perfect job and a perfect boyfriend, Jason Tate (Ryan Carnes) far, far away from her scandalous political family in Mexico. When Jason proposes to her and wants to go to home to meet the family she has been keeping a secret, her two worlds clash. Adding to the hilarious chaos, her family brings her ex, Angel, (Omar Chaparro) into the picture and convinces Valentina to go along with a sham marriage to him in an effort to stop further negative press as her father runs for re-election. In the end, Valentina must choose where her heart belongs.