Playing At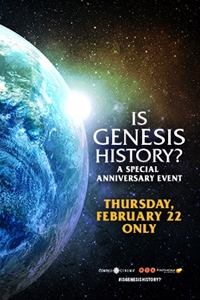 Is Genesis History? Anniversary Event
()
Rated NR
This movie has not yet been rated by the MPAA.
Rated G
Nothing that would offend parents for viewing by children.
Rated PG
Parents urged to give "parental guidance." May contain some material parents might not like for their young children.
Rated PG-13
Parents are urged to be cautious. Some material may be inappropriate for pre-teenagers.
Rated R
Contains some adult material. Parents are urged to learn more about the film before taking their young children with them.
Rated NC-17
Clearly adult. Children are not admitted.
Release Date:
February 22nd, 2018
Run time:
2 hr. 0 min.
Director:
Genres:
Program
Starring:
Del Tackett
Fathom Events and Compass Cinema bring back the documentary, Is Genesis History? to cinemas nationwide for a special one-year anniversary event. Don't miss this first-of-its-kind documentary on the big screen on Thursday, February 22 only. Dr. Del Tackett crosses the continent too meet with top scientists and scholars and asks the questions surrounding the most controversial book of the Bible that everyone is curious about: Was everything created in six days? Did we evolve from apes? Were Adam and Eve real? Was there a global flood? What happened to the dinosaurs? Was there a tower of Babel? Includes all new footage with Host Del Tackett all new Ark Encounter with college students to discuss the importance of Genesis to Millennials.