Playing At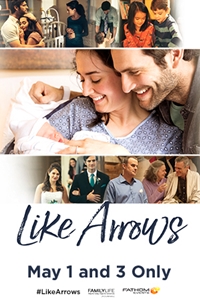 Like Arrows
()
Rated NR
This movie has not yet been rated by the MPAA.
Rated G
Nothing that would offend parents for viewing by children.
Rated PG
Parents urged to give "parental guidance." May contain some material parents might not like for their young children.
Rated PG-13
Parents are urged to be cautious. Some material may be inappropriate for pre-teenagers.
Rated R
Contains some adult material. Parents are urged to learn more about the film before taking their young children with them.
Rated NC-17
Clearly adult. Children are not admitted.
Release Date:
May 1st, 2018
Run time:
2 hr. 0 min.
Director:
Kevin Peeples
Genres:
Program
Starring:
Alan Powell, Alex Kendrick, Katherine Shepler, Justin Torrence
Fathom Events and FamilyLife present Like Arrows in movie theaters nationwide for two nights on May 1 and 3, 2018, featuring an exclusive panel discussion with producers, Alex and Stephen Kendrick, Dennis Rainey, and Bob Lepine.
When rebellion creeps into their family, Charlie and Alice realize their approach to raising children isn't working, and they start searching for answers. But is it too late? FamilyLife's first feature film explores the joys and heartaches of parenting. Through a journey that unfolds over 50 years, Charlie and Alice discover the power of family and learn that knowing and living by God's word is the most important key to parenting with purpose.