Playing At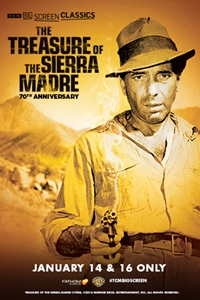 The Treasure of the Sierra Madre 70th Anniversary(1948) presented by TCM
()
Rated NR
This movie has not yet been rated by the MPAA.
Rated G
Nothing that would offend parents for viewing by children.
Rated PG
Parents urged to give "parental guidance." May contain some material parents might not like for their young children.
Rated PG-13
Parents are urged to be cautious. Some material may be inappropriate for pre-teenagers.
Rated R
Contains some adult material. Parents are urged to learn more about the film before taking their young children with them.
Rated NC-17
Clearly adult. Children are not admitted.
Release Date:
January 14th, 2018
Run time:
2 hr. 15 min.
Director:
John Huston
Genres:
Program
Starring:
Humphrey Bogart, Walter Huston, Tim Holt
Fathom Events, Turner Classic Movies and Warner Bros. Entertainment are bringing The Treasure of the Sierra Madre to select cinemas nationwide for a special two-day event, which includes specially produced commentary from TCM host Ben Mankiewicz. Academy Award winners Humphrey Bogart and Walter Huston star with Tim Holt in this classic tale of the cunning, greed and paranoia caused by The Treasure of the Sierra Madre. Three down and out Americans pool the meager resources they have to follow a rumor of gold ore to be found somewhere in the Sierra Madre mountains. The three friends agree to split everything equally, but then they discover a fortune in gold ore...