Playing At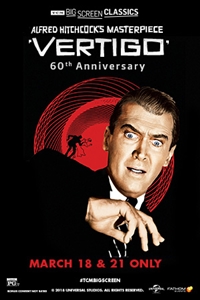 Vertigo 60th Anniversary (1958) presented by TCM
()
Rated NR
This movie has not yet been rated by the MPAA.
Rated G
Nothing that would offend parents for viewing by children.
Rated PG
Parents urged to give "parental guidance." May contain some material parents might not like for their young children.
Rated PG-13
Parents are urged to be cautious. Some material may be inappropriate for pre-teenagers.
Rated R
Contains some adult material. Parents are urged to learn more about the film before taking their young children with them.
Rated NC-17
Clearly adult. Children are not admitted.
Release Date:
March 18th, 2018
Run time:
2 hr. 20 min.
Director:
Alfred Hitchcock
Genres:
Program
Starring:
James Stewart, Kim Novak, Barbara Bel Geddes, Tom Helmore
Fathom Events, Turner Classic Movies and Universal Pictures are celebrating the 60th anniversary of Vertigo and bringing the classic movie to select cinemas nationwide for a special two-day event, which also includes specially produced commentary from Turner Classic Movies. Considered one of Alfred Hitchcock's greatest cinematic achievements, Vertigo is a dreamlike thriller from the Master of Suspense. Set in San Francisco, the film creates a dizzying web of mistaken identity, passion and murder after an acrophobic detective (James Stewart) rescues a mysterious blonde (Kim Novak) from the bay and must unravel the secrets of the past to find the key to his future.