Playing At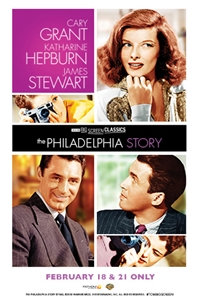 The Philadelphia Story (1940) presented by TCM
()
Rated NR
This movie has not yet been rated by the MPAA.
Rated G
Nothing that would offend parents for viewing by children.
Rated PG
Parents urged to give "parental guidance." May contain some material parents might not like for their young children.
Rated PG-13
Parents are urged to be cautious. Some material may be inappropriate for pre-teenagers.
Rated R
Contains some adult material. Parents are urged to learn more about the film before taking their young children with them.
Rated NC-17
Clearly adult. Children are not admitted.
Release Date:
February 18th, 2018
Run time:
2 hr. 0 min.
Director:
George Cukor
Genres:
Program
Starring:
Cary Grant, Katharine Hepburn, James Stewart, Ruth Hussey
Fathom Events, Turner Classic Movies and Warner Bros. Entertainment are bringing The Philadelphia Story to select cinemas nationwide for a special two-day event, which includes specially produced commentary from Turner Classic Movies. On the eve of Tracy Samantha Lord's (Katharine Hepburn) wedding, her blue-blood ex-husband, C.K. Dexter Haven (Cary Grant), returns. C.K. discovered that a national tabloid plans to do an expose on Tracy's philandering father and has agreed to smuggle a reporter (James Stewart) into her wedding if the magazine kills the story on the elder Lord. Now, before the evening is over, Tracy will be forced to take a look at herself and to realize which of these three men she truly loves.