Playing At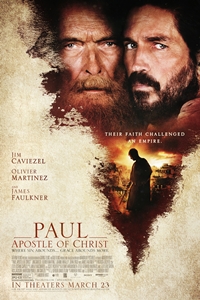 Paul, Apostle of Christ
(PG-13)
Rated NR
This movie has not yet been rated by the MPAA.
Rated G
Nothing that would offend parents for viewing by children.
Rated PG
Parents urged to give "parental guidance." May contain some material parents might not like for their young children.
Rated PG-13
Parents are urged to be cautious. Some material may be inappropriate for pre-teenagers.
Rated R
Contains some adult material. Parents are urged to learn more about the film before taking their young children with them.
Rated NC-17
Clearly adult. Children are not admitted.
Release Date:
March 23rd, 2018
Run time:
1 hr. 47 min.
Director:
Andrew Hyatt
Genres:
Drama
Starring:
Jim Caviezel, James Faulkner, Olivier Martinez, Joanna Whalley
In PAUL, THE APOSTLE OF CHRIST, Paul suffers alone in a Roman prison, awaiting his execution under Emperor Nero. Mauritius, the ambitious prison prefect, can hardly see what threat this broken man poses. Once he was Saul of Tarsus, the high-ranking and brutal killer of Christians. Now his faith rattles Rome. At great risk, Luke the Physician visits the aged Paul to comfort and tend to him-and to question, to transcribe, and to smuggle out Paul's letters to the growing community of believers. Amid Nero's inhuman persecution, these men and women will spread the Gospel of Jesus Christ and change the world.