Playing At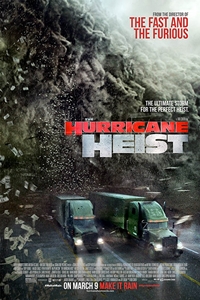 The Hurricane Heist
(PG-13)
Rated NR
This movie has not yet been rated by the MPAA.
Rated G
Nothing that would offend parents for viewing by children.
Rated PG
Parents urged to give "parental guidance." May contain some material parents might not like for their young children.
Rated PG-13
Parents are urged to be cautious. Some material may be inappropriate for pre-teenagers.
Rated R
Contains some adult material. Parents are urged to learn more about the film before taking their young children with them.
Rated NC-17
Clearly adult. Children are not admitted.
Release Date:
March 9th, 2018
Run time:
1 hr. 40 min.
Director:
Rob Cohen
Genres:
Action/Adventure, Suspense/Thriller
Starring:
Toby Kebbell, Maggie Grace, Ryan Kwanten, Ralph Ineson
A crew of thieves plans the ultimate heist, to steal $600 million from the U.S. treasury facility located on the Gulf Coast of Alabama using a hurricane as their cover. When the storm blows up into a lethal CATEGORY 5 and their well-made plans go awry, they find themselves needing a vault code known only by one female Treasury Agent, a need that turns murderous. But the Treasury agent has picked up an unlikely ally, a meteorologist terrified of hurricanes but determined to save his estranged brother kidnapped by the thieves. He uses his knowledge of the storm as a weapon to defeat the bad guys in this non-stop action/thriller.