Playing At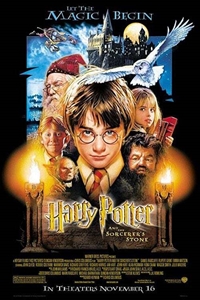 Harry Potter and the Sorcerer's Stone
(PG)
Rated NR
This movie has not yet been rated by the MPAA.
Rated G
Nothing that would offend parents for viewing by children.
Rated PG
Parents urged to give "parental guidance." May contain some material parents might not like for their young children.
Rated PG-13
Parents are urged to be cautious. Some material may be inappropriate for pre-teenagers.
Rated R
Contains some adult material. Parents are urged to learn more about the film before taking their young children with them.
Rated NC-17
Clearly adult. Children are not admitted.
Release Date:
November 16th, 2001
Run time:
2 hr. 33 min.
Director:
Chris Columbus
Genres:
Family, Action/Adventure
Starring:
Daniel Radcliffe, Emma Watson, Rupert Grint, Richard Griffiths
Harry Potter has learned to live with his bullying Uncle Vernon, his callous Aunt Petunia and the constant whining of his greedy, spoiled cousin Dudley. He's even learned to live with sleeping in the cupboard under the stairs. Harry's relatives have just as reluctantly learned to live with the unwelcome presence of their orphaned relation, a constant reminder of Petunia's "wayward" sister and brother-in-law and their mysterious and untimely demise. Even the impending arrival of his 11th birthday offers no excitement for Harry- as usual, there's little chance of cards, presents or any kind of birthday treat. This year, however, is different. On his 11th birthday, Harry learns that he is the orphaned son of two powerful wizards and possesses unique magical powers of his own. Invited to attend Hogwarts School of Witchcraft and Wizardry, Harry embarks on the adventure of a lifetime. At Hogwarts, he finds the home and family he has never had.