Playing At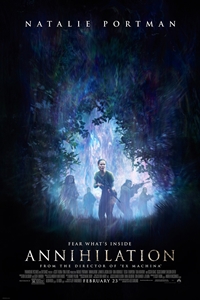 Annihilation
(R)
Rated NR
This movie has not yet been rated by the MPAA.
Rated G
Nothing that would offend parents for viewing by children.
Rated PG
Parents urged to give "parental guidance." May contain some material parents might not like for their young children.
Rated PG-13
Parents are urged to be cautious. Some material may be inappropriate for pre-teenagers.
Rated R
Contains some adult material. Parents are urged to learn more about the film before taking their young children with them.
Rated NC-17
Clearly adult. Children are not admitted.
Release Date:
February 23rd, 2018
Run time:
1 hr. 55 min.
Director:
Alex Garland
Genres:
Action/Adventure, SciFi/Fantasy
Starring:
Natalie Portman, Jennifer Jason Leigh, Gina Rodriguez, Tessa Thompson
Lena, a biologist and former soldier, joins a mission to uncover what happened to her husband inside Area X - a sinister and mysterious phenomenon that is expanding across the American coastline. Once inside, the expedition discovers a world of mutated landscape and creatures, as dangerous as it is beautiful, that threatens both their lives and their sanity.