Playing At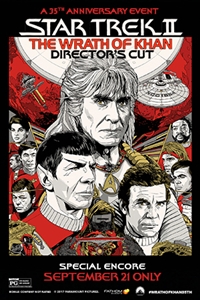 Star Trek II: The Wrath of Khan 35th Anniversary
(PG)
Rated NR
This movie has not yet been rated by the MPAA.
Rated G
Nothing that would offend parents for viewing by children.
Rated PG
Parents urged to give "parental guidance." May contain some material parents might not like for their young children.
Rated PG-13
Parents are urged to be cautious. Some material may be inappropriate for pre-teenagers.
Rated R
Contains some adult material. Parents are urged to learn more about the film before taking their young children with them.
Rated NC-17
Clearly adult. Children are not admitted.
Release Date:
September 10th, 2017
Run time:
2 hr. 10 min.
Director:
Genres:
Program
Starring:
William Shatner, Leonard Nimoy, Ricardo Montalban
Fathom Events and Paramount Pictures are bringing Star Trek II: The Wrath of Khan The Director's Cut to select cinemas for a special encore on September 21 only. The special 35th anniversary event includes an exclusive introduction from William Shatner. On routine training maneuvers, Admiral James T. Kirk seems resigned that this may be the last space mission of his career. But Khan is back, with a vengeance. Aided by his exiled band of genetic supermen, Khan (Ricardo Montalban) has raided Space Station Regula One, stolen the top-secret device called Project Genesis, wrested control of another Federation starship, and now schemes to set a most deadly trap for his old enemy Kirk.