Playing At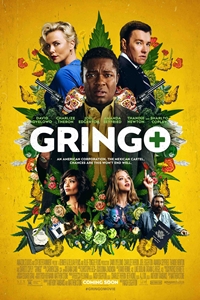 Gringo
(R)
Rated NR
This movie has not yet been rated by the MPAA.
Rated G
Nothing that would offend parents for viewing by children.
Rated PG
Parents urged to give "parental guidance." May contain some material parents might not like for their young children.
Rated PG-13
Parents are urged to be cautious. Some material may be inappropriate for pre-teenagers.
Rated R
Contains some adult material. Parents are urged to learn more about the film before taking their young children with them.
Rated NC-17
Clearly adult. Children are not admitted.
Release Date:
March 9th, 2018
Run time:
1 hr. 50 min.
Director:
Nash Edgerton
Genres:
Comedy
Starring:
David Oyelowo, Joel Edgerton, Amanda Seyfried, Charlize Theron
The story follows mild-mannered businessman Harold Soyinka (Oyelowo), who has a new wife and a stake in a pharmaceutical company about to go public. He seemingly has the American Dream in his grasp - until everything goes wrong. Stranded south of the border, with a price on his head, Harold discovers that the life he had never really existed in the first place.