Playing At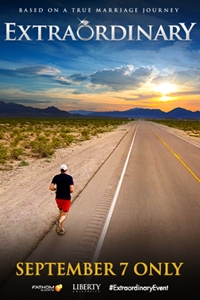 EXTRAORDINARY
()
Rated NR
This movie has not yet been rated by the MPAA.
Rated G
Nothing that would offend parents for viewing by children.
Rated PG
Parents urged to give "parental guidance." May contain some material parents might not like for their young children.
Rated PG-13
Parents are urged to be cautious. Some material may be inappropriate for pre-teenagers.
Rated R
Contains some adult material. Parents are urged to learn more about the film before taking their young children with them.
Rated NC-17
Clearly adult. Children are not admitted.
Release Date:
September 7th, 2017
Run time:
1 hr. 40 min.
Director:
Genres:
Program
Starring:
Fathom Events & Liberty University present the amazing story based on a true marriage journey, Extraordinary, in select cinemas nationwide on Thursday, September 7 only. The seemingly endless road beckons. Well beyond exhausted, his body trudges onward-quitting is never an option. Aiming toward the finish line of another transcontinental race, he senses his prize this time is much greater than any medal or honor. Every step leads him closer to home. This film tells the story of ultra-marathon runner and college professor David Horton, his wife, Nancy, and their attempt to finish their marriage race well.