Playing At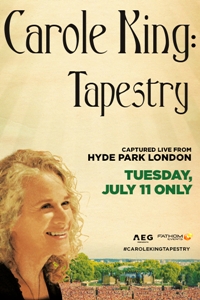 Carole King: Tapestry - Captured Live
()
Rated NR
This movie has not yet been rated by the MPAA.
Rated G
Nothing that would offend parents for viewing by children.
Rated PG
Parents urged to give "parental guidance." May contain some material parents might not like for their young children.
Rated PG-13
Parents are urged to be cautious. Some material may be inappropriate for pre-teenagers.
Rated R
Contains some adult material. Parents are urged to learn more about the film before taking their young children with them.
Rated NC-17
Clearly adult. Children are not admitted.
Release Date:
July 11th, 2017
Run time:
1 hr. 40 min.
Director:
Genres:
Program
Starring:
Carole King
Fathom Events and AEG Worldwide are excited to bring legendary musician, Carole King, to cinemas nationwide for a special one-night event on Tuesday, July 11 in Carole King: Tapestry, captured live from Hyde Park, London. In July, 2016 Carole King performed her iconic album Tapestry at the BST Hyde Park London to a sold-out stadium full of adoring fans. Not only did Carole perform that album in its entirety for the first time, she also treated the 50,000 plus in attendance to a number of Goffin/King compositions plus for a rocking performance of I Feel The Earth Move with Cassidy Janson and the London cast of Beautiful The Carole King Musical.