Playing At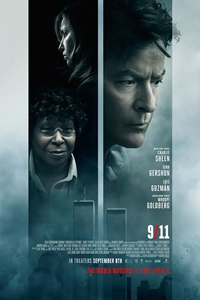 9/11
(R)
Rated NR
This movie has not yet been rated by the MPAA.
Rated G
Nothing that would offend parents for viewing by children.
Rated PG
Parents urged to give "parental guidance." May contain some material parents might not like for their young children.
Rated PG-13
Parents are urged to be cautious. Some material may be inappropriate for pre-teenagers.
Rated R
Contains some adult material. Parents are urged to learn more about the film before taking their young children with them.
Rated NC-17
Clearly adult. Children are not admitted.
Release Date:
September 8th, 2017
Run time:
1 hr. 30 min.
Director:
Martin Guigui
Genres:
Drama
Starring:
Charlie Sheen, Whoopi Goldberg, Gina Gershon, Luis Guzmán
It's the morning of 9/11, a messenger sings "Happy Birthday" to his daughter, a billionaire argues with his wife in a divorce hearing, a maintenance man begins his day, and a young Russian decides she's breaking up with her sugar daddy. When the first plane hits World Trade Center, these 5 elevator passengers find themselves trapped. Forced to band together, they fight against all odds to escape before the unthinkable collapse occurs.Their story is about courage, faith and the will to live.