Playing At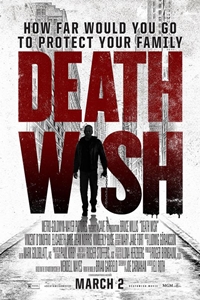 Death Wish
(R)
Rated NR
This movie has not yet been rated by the MPAA.
Rated G
Nothing that would offend parents for viewing by children.
Rated PG
Parents urged to give "parental guidance." May contain some material parents might not like for their young children.
Rated PG-13
Parents are urged to be cautious. Some material may be inappropriate for pre-teenagers.
Rated R
Contains some adult material. Parents are urged to learn more about the film before taking their young children with them.
Rated NC-17
Clearly adult. Children are not admitted.
Release Date:
March 2nd, 2018
Run time:
1 hr. 48 min.
Director:
Eli Roth
Genres:
Action/Adventure, Drama
Starring:
Bruce Willis, Vincent D'Onofrio, Elisabeth Shue, Camila Morrone
Paul Kersey becomes a divided person: A man who saves lives, and a man who takes them; a husband and father trying to take care of his family, and a shadowy figure fighting Chicago crime; a surgeon extracting bullets from suspects' bodies, and the vigilante called "The Grim Reaper" who detectives are quickly closing in on.