Playing At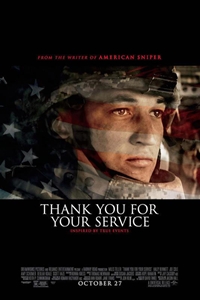 Thank You For Your Service
(R)
Rated NR
This movie has not yet been rated by the MPAA.
Rated G
Nothing that would offend parents for viewing by children.
Rated PG
Parents urged to give "parental guidance." May contain some material parents might not like for their young children.
Rated PG-13
Parents are urged to be cautious. Some material may be inappropriate for pre-teenagers.
Rated R
Contains some adult material. Parents are urged to learn more about the film before taking their young children with them.
Rated NC-17
Clearly adult. Children are not admitted.
Release Date:
October 27th, 2017
Run time:
1 hr. 49 min.
Director:
Jason Hall
Genres:
Drama
Starring:
Haley Bennett, Amy Schumer, Miles Teller, Joe Cole
THANK YOU FOR YOUR SERVICE follows a group of U.S. soldiers returning from Iraq who struggle to integrate back into family and civilian life, while living with the memory of a war that threatens to destroy them long after they've left the battlefield.