Playing At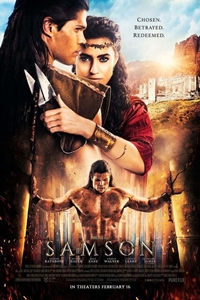 Samson
(PG-13)
Rated NR
This movie has not yet been rated by the MPAA.
Rated G
Nothing that would offend parents for viewing by children.
Rated PG
Parents urged to give "parental guidance." May contain some material parents might not like for their young children.
Rated PG-13
Parents are urged to be cautious. Some material may be inappropriate for pre-teenagers.
Rated R
Contains some adult material. Parents are urged to learn more about the film before taking their young children with them.
Rated NC-17
Clearly adult. Children are not admitted.
Release Date:
February 16th, 2018
Run time:
1 hr. 50 min.
Director:
Bruce Macdonald
Genres:
Drama
Starring:
Jackson Rathbone, Billy Zane, Taylor James, Rutger Hauer
A Hebrew with an unusual gift of strength must respond properly to the call of God on his life in order to lead his people out of enslavement. After his youthful ambition leads to a tragic marriage, his acts of revenge thrust him into direct conflict with the Philistine army. As his brother mounts a tribal rebellion, only Samson's relationship with a Philistine temptress and his final surrender both to the Philistines and to God turns imprisonment and blindness into final victory.