Playing At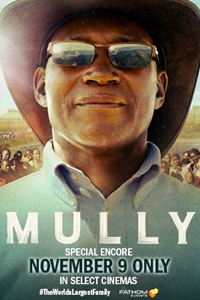 Mully
()
Rated NR
This movie has not yet been rated by the MPAA.
Rated G
Nothing that would offend parents for viewing by children.
Rated PG
Parents urged to give "parental guidance." May contain some material parents might not like for their young children.
Rated PG-13
Parents are urged to be cautious. Some material may be inappropriate for pre-teenagers.
Rated R
Contains some adult material. Parents are urged to learn more about the film before taking their young children with them.
Rated NC-17
Clearly adult. Children are not admitted.
Release Date:
October 3rd, 2017
Run time:
1 hr. 40 min.
Director:
Scott Haze
Genres:
Program, Documentary
Starring:
Charles Mully
Fathom Events presents a special encore of the inspiring true story of one man's journey, Charles Mully, who is changing the world, one child at a time. Mully features exclusive bonus content in select cinemas nationwide for one night on November 9. What happens when a six-year-old boy in Kenya is abandoned by his family and left to raise himself on the streets? Mully is no ordinary rags-to-riches tale. It's the story of Charles Mully, whose unlikely rise to wealth and power leaves him searching for meaning. When Mully sets out to enrich the fate of orphaned children across Kenya, he risks everything and sets in motion a series of events that is nothing short of astonishing.