Playing At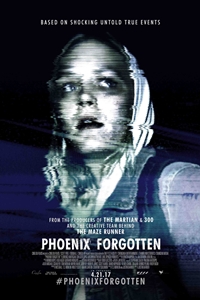 Phoenix Forgotten
(PG-13)
Rated NR
This movie has not yet been rated by the MPAA.
Rated G
Nothing that would offend parents for viewing by children.
Rated PG
Parents urged to give "parental guidance." May contain some material parents might not like for their young children.
Rated PG-13
Parents are urged to be cautious. Some material may be inappropriate for pre-teenagers.
Rated R
Contains some adult material. Parents are urged to learn more about the film before taking their young children with them.
Rated NC-17
Clearly adult. Children are not admitted.
Release Date:
April 21st, 2017
Run time:
1 hr. 27 min.
Director:
Justin Barber
Genres:
Horror
Starring:
Chelsea Lopez, Matt Biedel, Justin Matthews, Luke Roberts
Phoenix Forgotten tells the story of three teens who went into the desert shortly after the incident, hoping to document the strange events occurring in their town. They disappeared that night, and were never seen again. Now, on the twentieth anniversary of their disappearance, unseen footage has finally been discovered, chronicling the final hours of their fateful expedition. For the first time ever, the truth will be revealed...