Playing At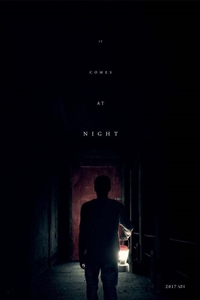 It Comes At Night
(R)
Rated NR
This movie has not yet been rated by the MPAA.
Rated G
Nothing that would offend parents for viewing by children.
Rated PG
Parents urged to give "parental guidance." May contain some material parents might not like for their young children.
Rated PG-13
Parents are urged to be cautious. Some material may be inappropriate for pre-teenagers.
Rated R
Contains some adult material. Parents are urged to learn more about the film before taking their young children with them.
Rated NC-17
Clearly adult. Children are not admitted.
Release Date:
June 9th, 2017
Run time:
1 hr. 37 min.
Director:
Trey Edward Shults
Genres:
Horror, Suspense/Thriller
Starring:
Joel Edgerton, Riley Keough, Christopher Abbott, Carmen Ejogo
Secure within a desolate home with his vigilant, protective and heavily armed parents, 17-year-old Travis navigates fear, grief and paranoia amid scarce resources as a desperate young couple seeks refuge in his family home with their young child.Despite the best intentions of both families, paranoia and mistrust boil over as the horrors outside creep ever-closer, awakening something hidden and monstrous within him as he learns that the protection of his family comes at the cost of his soul.