Playing At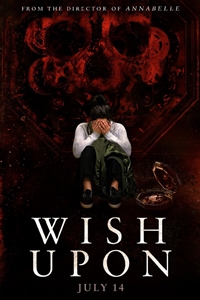 Wish Upon
(PG-13)
Rated NR
This movie has not yet been rated by the MPAA.
Rated G
Nothing that would offend parents for viewing by children.
Rated PG
Parents urged to give "parental guidance." May contain some material parents might not like for their young children.
Rated PG-13
Parents are urged to be cautious. Some material may be inappropriate for pre-teenagers.
Rated R
Contains some adult material. Parents are urged to learn more about the film before taking their young children with them.
Rated NC-17
Clearly adult. Children are not admitted.
Release Date:
July 14th, 2017
Run time:
1 hr. 30 min.
Director:
John R. Leonetti
Genres:
Horror
Starring:
Joey King, Ryan Phillippe, Ki Hong Lee, Mitchell Slaggert
Twelve years after discovering her mother's suicide, 17-year-old CLARE SHANNON is bullied in high school, embarrassed by her manic, hoarder father JONATHAN and ignored by her longtime crush. All that changes when her father comes home with an old music box whose inscription promises to grant its owner seven wishes. While Clare is initially skeptical of this magic box, she can't help but be seduced by its dark powers, and is thrilled as her life radically improves with each wish. Clare finally has the life she's always wanted and everything seems perfect - until the people closest to her begin dying in violent and elaborate ways after each wish. Clare realizes that she must get rid of the box, but finds herself unable and unwilling to part with her new-and-improved life - leading her down a dark and dangerous path.