Playing At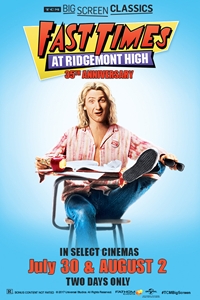 Fast Times at Ridgemont High (1982) presented by TCM
(NR)
Rated NR
This movie has not yet been rated by the MPAA.
Rated G
Nothing that would offend parents for viewing by children.
Rated PG
Parents urged to give "parental guidance." May contain some material parents might not like for their young children.
Rated PG-13
Parents are urged to be cautious. Some material may be inappropriate for pre-teenagers.
Rated R
Contains some adult material. Parents are urged to learn more about the film before taking their young children with them.
Rated NC-17
Clearly adult. Children are not admitted.
Release Date:
July 30th, 2017
Run time:
1 hr. 40 min.
Director:
Amy Heckerling
Genres:
Program, Comedy
Starring:
Sean Penn, Jennifer Jason Leigh, Judge Reinhold, Phoebe Cates
Fathom Events, Turner Classic Movies and Universal Pictures are bringing Fast Times at Ridgemont High to select cinemas nationwide for a special two-day event, which also includes an introduction from a TCM host. Academy Award winner Sean Penn stars in the film that defined the outrageous and bold teen comedy genre. Follow a group of Southern California high school students as they explore their most important subjects: sex, drugs and rock 'n' roll. Directed by Amy Heckerling (Clueless) and written by Cameron Crowe (Almost Famous), this hilarious portrait of 1980s American teen life features film debuts of future stars Nicolas Cage and Forest Whitaker.