Playing At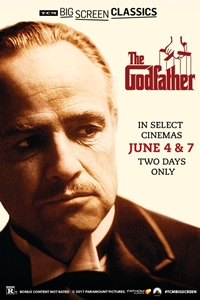 The Godfather (1972) presented by TCM
(NR)
Rated NR
This movie has not yet been rated by the MPAA.
Rated G
Nothing that would offend parents for viewing by children.
Rated PG
Parents urged to give "parental guidance." May contain some material parents might not like for their young children.
Rated PG-13
Parents are urged to be cautious. Some material may be inappropriate for pre-teenagers.
Rated R
Contains some adult material. Parents are urged to learn more about the film before taking their young children with them.
Rated NC-17
Clearly adult. Children are not admitted.
Release Date:
June 4th, 2017
Run time:
2 hr. 55 min.
Director:
Francis Ford Coppola
Genres:
Program, Drama
Starring:
Al Pacino, Marlon Brando, Robert Duvall, James Caan
Fathom Events, Turner Classic Movies and Paramount Pictures are bringing The Godfather to select cinemas nationwide for a special two-day event, which also includes an introduction from a TCM host. Francis Ford Coppola's epic masterpiece features Marlon Brando in his Oscar©-winning role as the patriarch of the Corleone family. Director Coppola paints a chilling portrait of the Sicilian clan's rise and near fall from power in America, masterfully balancing the story between the Corleone's family life and the ugly crime business in which they are engaged.