Playing At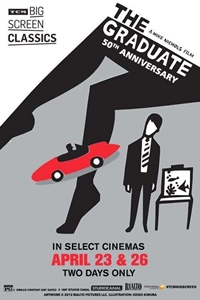 The Graduate 50th Anniversary (1967) presented by TCM
(NR)
Rated NR
This movie has not yet been rated by the MPAA.
Rated G
Nothing that would offend parents for viewing by children.
Rated PG
Parents urged to give "parental guidance." May contain some material parents might not like for their young children.
Rated PG-13
Parents are urged to be cautious. Some material may be inappropriate for pre-teenagers.
Rated R
Contains some adult material. Parents are urged to learn more about the film before taking their young children with them.
Rated NC-17
Clearly adult. Children are not admitted.
Release Date:
April 23rd, 2017
Run time:
2 hr. 0 min.
Director:
Mike Nichol
Genres:
Program, Drama
Starring:
Dustin Hoffman, Anne Bancroft, Katharine Ross, William Daniels
Fathom Events, Turner Classic Movies and Studio Canal are bringing The Graduate to select cinemas nationwide for a special two-day event, which also includes an introduction from a TCM host. Dustin Hoffman's Benjamon Braddock, adrift after college, is craftily seduced by Anne Bancroft's icily-assured friend-of-the-family Mrs. Robinson. So it's understandable that Ben's dream girl Katharine Ross is a bit startled to learn that he's sleeping with ... her mother.