Playing At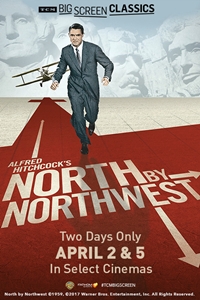 North by Northwest (1959) presented by TCM
(NR)
Rated NR
This movie has not yet been rated by the MPAA.
Rated G
Nothing that would offend parents for viewing by children.
Rated PG
Parents urged to give "parental guidance." May contain some material parents might not like for their young children.
Rated PG-13
Parents are urged to be cautious. Some material may be inappropriate for pre-teenagers.
Rated R
Contains some adult material. Parents are urged to learn more about the film before taking their young children with them.
Rated NC-17
Clearly adult. Children are not admitted.
Release Date:
April 2nd, 2017
Run time:
2 hr. 25 min.
Director:
Alfred Hitchcock
Genres:
Program, Suspense/Thriller
Starring:
Cary Grant, Eva Marie Saint, James Mason, Jessie Royce Landis
Fathom Events, Turner Classic Movies and Warner Bros. Entertainment are bringing North by Northwest to select cinemas nationwide for a special two-day event, which also includes an introduction from a TCM host. Cary Grant stars as an innocent man mistaken for a spy in one of director Alfred Hitchcock's greatest thrillers. While leaving New York's Plaza Hotel, advertising executive Roger Thornhill (Grant) has the misfortune of standing just as the name "George Kaplan" is paged, starting a lethal case of mistaken identity and a nonstop game of cat and mouse as he is pursued across North America by espionage agents trying to kill him--and by police who suspect him of murder.