Playing At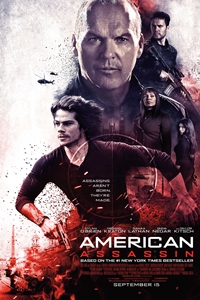 American Assassin
(R)
Rated NR
This movie has not yet been rated by the MPAA.
Rated G
Nothing that would offend parents for viewing by children.
Rated PG
Parents urged to give "parental guidance." May contain some material parents might not like for their young children.
Rated PG-13
Parents are urged to be cautious. Some material may be inappropriate for pre-teenagers.
Rated R
Contains some adult material. Parents are urged to learn more about the film before taking their young children with them.
Rated NC-17
Clearly adult. Children are not admitted.
Release Date:
September 15th, 2017
Run time:
1 hr. 51 min.
Director:
Michael Cuesta
Genres:
Action/Adventure, Suspense/Thriller
Starring:
Dylan O'Brien, Michael Keaton, Sanaa Lathan, Shiva Negar
AMERICAN ASSASSIN follows the rise of Mitch Rapp a CIA black ops recruit under the instruction of Cold War veteran Stan Hurley. The pair is then enlisted by CIA Deputy Director Irene Kennedy to investigate a wave of apparently random attacks on both military and civilian targets. Together the three discover a pattern in the violence leading them to a joint mission with a lethal Turkish agent to stop a mysterious operative intent on starting a World War in the Middle East.