Playing At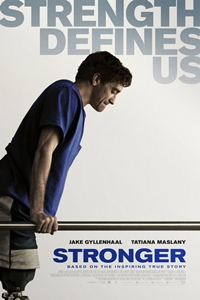 Stronger
(R)
Rated NR
This movie has not yet been rated by the MPAA.
Rated G
Nothing that would offend parents for viewing by children.
Rated PG
Parents urged to give "parental guidance." May contain some material parents might not like for their young children.
Rated PG-13
Parents are urged to be cautious. Some material may be inappropriate for pre-teenagers.
Rated R
Contains some adult material. Parents are urged to learn more about the film before taking their young children with them.
Rated NC-17
Clearly adult. Children are not admitted.
Release Date:
September 22nd, 2017
Run time:
1 hr. 56 min.
Director:
David Gordon Green
Genres:
Drama
Starring:
Jake Gyllenhaal, Tatiana Maslany, Miranda Richardson, Clancy Brown
Stronger is the inspiring true story of Jeff Bauman, an ordinary man who captured the hearts of his city and the world to become the symbol of hope following the infamous 2013 Boston Marathon bombing. Jake Gyllenhaal stars as Jeff, a 27-year-old, working-class Boston man who was at the marathon to try and win back his ex-girlfriend Erin (Tatiana Maslany). Waiting for her at the finish line when the blast occurs, he loses both his legs in the attack. After regaining consciousness in the hospital, Jeff is able to help law enforcement identify one of the bombers, but his own battle has just begun. He tackles months of physical and emotional rehabilitation with the unwavering support of Erin and his family. It is Jeff's deeply personal account of the heroic journey that tests a family's bond, defines a community's pride and inspires his inner courage to overcome devastating adversity. Filled with raw emotion, humanity and humor, Stronger is the inspirational real-life story of the man who became the living embodiment of "Boston Strong." The film also stars Academy Award® nominee Miranda Richardson and is directed by David Gordon Green.