Playing At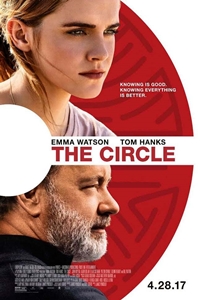 The Circle
(PG-13)
Rated NR
This movie has not yet been rated by the MPAA.
Rated G
Nothing that would offend parents for viewing by children.
Rated PG
Parents urged to give "parental guidance." May contain some material parents might not like for their young children.
Rated PG-13
Parents are urged to be cautious. Some material may be inappropriate for pre-teenagers.
Rated R
Contains some adult material. Parents are urged to learn more about the film before taking their young children with them.
Rated NC-17
Clearly adult. Children are not admitted.
Release Date:
April 28th, 2017
Run time:
1 hr. 50 min.
Director:
James Ponsoldt
Genres:
Drama, Suspense/Thriller
Starring:
Tom Hanks, Emma Watson, John Boyega, Ellar Coltrane
As she rises through the ranks of the world's largest tech and social media company, The Circle, Mae is encouraged by company founder Eamon Bailey to live her life with complete transparency. But no one is really safe when everyone is watching.