Playing At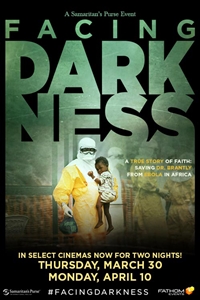 Samaritan's Purse presents Facing Darkness
(NR)
Rated NR
This movie has not yet been rated by the MPAA.
Rated G
Nothing that would offend parents for viewing by children.
Rated PG
Parents urged to give "parental guidance." May contain some material parents might not like for their young children.
Rated PG-13
Parents are urged to be cautious. Some material may be inappropriate for pre-teenagers.
Rated R
Contains some adult material. Parents are urged to learn more about the film before taking their young children with them.
Rated NC-17
Clearly adult. Children are not admitted.
Release Date:
March 30th, 2017
Run time:
2 hr. 0 min.
Director:
Arthur Rasco
Genres:
Program
Starring:
Back by popular demand, Fathom Events and Samaritan's Purse present the compelling documentary, Facing Darkness, A True Story of Faith: Saving Dr. Brantly from Ebola in Africa, in select cinemas nationwide for a special encore event on Monday, April 10. In the spring of 2014, while the world stood by as Ebola consumed West Africa, Samaritan's Purse stepped forward to provide aid and comfort, but one of their own medical personnel became infected. Following this moving story, audiences will hear from Samaritan's Purse President, Franklin Graham, and Dr. Kent Brantly, the first American to survive Ebola, regarding their time in Africa, the organization's mission, and their lives since the high drama of the epidemic.