Playing At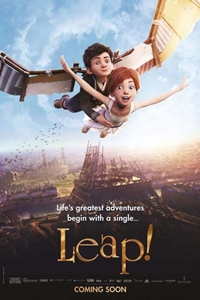 Leap! (Ballerina)
(PG)
Rated NR
This movie has not yet been rated by the MPAA.
Rated G
Nothing that would offend parents for viewing by children.
Rated PG
Parents urged to give "parental guidance." May contain some material parents might not like for their young children.
Rated PG-13
Parents are urged to be cautious. Some material may be inappropriate for pre-teenagers.
Rated R
Contains some adult material. Parents are urged to learn more about the film before taking their young children with them.
Rated NC-17
Clearly adult. Children are not admitted.
Release Date:
August 25th, 2017
Run time:
1 hr. 29 min.
Director:
Eric Summer, Éric Warin
Genres:
Animation
Starring:
Elle Fanning, Nat Wolff, Maddie Ziegler, Carly Rae Jepsen
Paris, 1884. An orphaned girl arrives in Paris from Brittany. Félicie Milliner is 11 and has no money but one big, passionate dream: to become a dancer. With nothing left to lose, Félicie takes a big risk: she 'borrows' a spoiled brats identity and enters the Opera Ballet School. But how long can she be someone else? Mentored by the tough and mysterious cleaner, Odette , Félicie learns that talent is not enough - it takes hard work to be better than her ruthless, conniving fellow students. That and friendship. Felicie's inventive, exhausting and charismatic best friend Victor also has a dream: becoming a famous inventor. Together, they both encourage each other to reach for the stars.