Playing At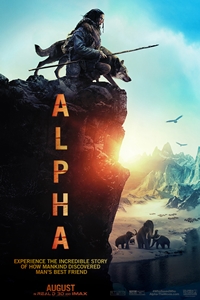 Alpha
(PG-13)
Rated NR
This movie has not yet been rated by the MPAA.
Rated G
Nothing that would offend parents for viewing by children.
Rated PG
Parents urged to give "parental guidance." May contain some material parents might not like for their young children.
Rated PG-13
Parents are urged to be cautious. Some material may be inappropriate for pre-teenagers.
Rated R
Contains some adult material. Parents are urged to learn more about the film before taking their young children with them.
Rated NC-17
Clearly adult. Children are not admitted.
Release Date:
September 14th, 2018
Run time:
N/A
Director:
Albert Hughes
Genres:
Action/Adventure, Drama
Starring:
Kodi Smit-McPhee, Leonor Varela, Natassia Malthe, Priya Rajaratnam
An epic adventure set in the last Ice Age. Europe, 20,000 years ago. While on his first hunt with his tribe's most elite group, a young man is injured and left for dead. Awakening to find himself broken and alone -- he must learn to survive and navigate the harsh and unforgiving wilderness. Reluctantly taming a lone wolf abandoned by its pack, the pair learn to rely on each other and become unlikely allies, enduring countless dangers and overwhelming odds in order to find their way home before the deadly winter arrives.