Playing At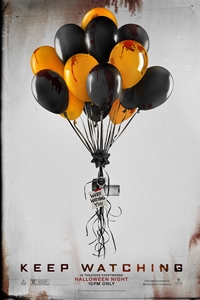 Keep Watching
(R)
Rated NR
This movie has not yet been rated by the MPAA.
Rated G
Nothing that would offend parents for viewing by children.
Rated PG
Parents urged to give "parental guidance." May contain some material parents might not like for their young children.
Rated PG-13
Parents are urged to be cautious. Some material may be inappropriate for pre-teenagers.
Rated R
Contains some adult material. Parents are urged to learn more about the film before taking their young children with them.
Rated NC-17
Clearly adult. Children are not admitted.
Release Date:
October 31st, 2017
Run time:
1 hr. 29 min.
Director:
Sean Carter
Genres:
Horror, Suspense/Thriller
Starring:
Bella Thorne, Natalie Martinez, Chandler Riggs, Leigh Whannell
A family imprisoned by intruders is forced to play a terrifying game of "Kill, Or Be Killed". As the night unfolds, the game's mysterious rules become clear, and the family realizes their nightmare is being streamed live to riveted viewers all over the world, who are compelled to KEEP WATCHING...not knowing if what they're seeing is real, or staged.