Playing At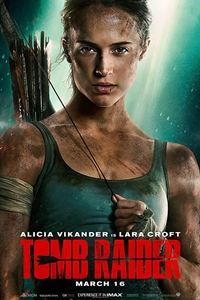 Tomb Raider
(PG-13)
Rated NR
This movie has not yet been rated by the MPAA.
Rated G
Nothing that would offend parents for viewing by children.
Rated PG
Parents urged to give "parental guidance." May contain some material parents might not like for their young children.
Rated PG-13
Parents are urged to be cautious. Some material may be inappropriate for pre-teenagers.
Rated R
Contains some adult material. Parents are urged to learn more about the film before taking their young children with them.
Rated NC-17
Clearly adult. Children are not admitted.
Also available in 3D
Release Date:
March 16th, 2018
Run time:
1 hr. 58 min.
Director:
Roar Uthaug
Genres:
Action/Adventure, SciFi/Fantasy
Starring:
Alicia Vikander, Dominic West, Walton Goggins, Daniel Wu
Lara Croft is the fiercely independent daughter of an eccentric adventurer who vanished when she was scarcely a teen. Now a young woman of 21 without any real focus or purpose, Lara navigates the chaotic streets of trendy East London as a bike courier. Determined to forge her own path, she refuses to take the reins of her father's global empire just as staunchly as she rejects the idea that he's truly gone. Going explicitly against his final wishes, she leaves everything behind in search of her dad's last-known destination: a fabled tomb on a mythical island that might be somewhere off the coast of Japan. Suddenly, the stakes couldn't be higher for Lara must learn to push herself beyond her limits as she journeys into the unknown.