Playing At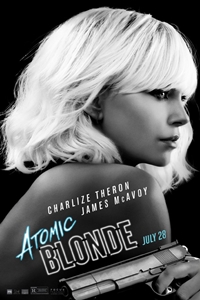 Atomic Blonde
(R)
Rated NR
This movie has not yet been rated by the MPAA.
Rated G
Nothing that would offend parents for viewing by children.
Rated PG
Parents urged to give "parental guidance." May contain some material parents might not like for their young children.
Rated PG-13
Parents are urged to be cautious. Some material may be inappropriate for pre-teenagers.
Rated R
Contains some adult material. Parents are urged to learn more about the film before taking their young children with them.
Rated NC-17
Clearly adult. Children are not admitted.
Release Date:
July 28th, 2017
Run time:
1 hr. 55 min.
Director:
David Leitch
Genres:
Suspense/Thriller
Starring:
James McAvoy, Charlize Theron, Sofia Boutella, John Goodman
The crown jewel of Her Majesty's Secret Intelligence Service, Agent Lorraine Broughton is equal parts spycraft, sensuality and savagery, willing to deploy any of her skills to stay alive on her impossible mission. Sent alone into Berlin to deliver a priceless dossier out of the destabilized city, she partners with embedded station chief David Percival to navigate her way through the deadliest game of spies.