Playing At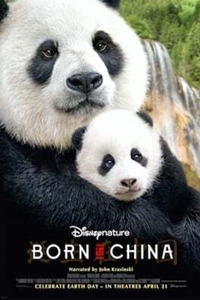 Born in China
(G)
Rated NR
This movie has not yet been rated by the MPAA.
Rated G
Nothing that would offend parents for viewing by children.
Rated PG
Parents urged to give "parental guidance." May contain some material parents might not like for their young children.
Rated PG-13
Parents are urged to be cautious. Some material may be inappropriate for pre-teenagers.
Rated R
Contains some adult material. Parents are urged to learn more about the film before taking their young children with them.
Rated NC-17
Clearly adult. Children are not admitted.
Release Date:
April 21st, 2017
Run time:
1 hr. 16 min.
Director:
Lu Chuan
Genres:
Documentary
Starring:
John Krasinski, Xun Zhou
"Born In China" follows the adventures of three animal families the majestic panda, the savvy golden monkey and the elusive snow leopard. Featuring stunning imagery, the film navigates the vast terrain from the frigid mountains to the heart of the bamboo forest on the wings of a red-crowned crane, showcasing remarkably intimate family moments captured on film for the first time ever.