Playing At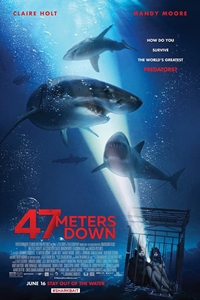 47 Meters Down
(PG-13)
Rated NR
This movie has not yet been rated by the MPAA.
Rated G
Nothing that would offend parents for viewing by children.
Rated PG
Parents urged to give "parental guidance." May contain some material parents might not like for their young children.
Rated PG-13
Parents are urged to be cautious. Some material may be inappropriate for pre-teenagers.
Rated R
Contains some adult material. Parents are urged to learn more about the film before taking their young children with them.
Rated NC-17
Clearly adult. Children are not admitted.
Release Date:
June 16th, 2017
Run time:
1 hr. 27 min.
Director:
Johannes Roberts
Genres:
Horror
Starring:
Matthew Modine, Mandy Moore, Claire Holt, Yani Gellman
Sisters Kate and Lisa are ready for the holiday of a lifetime in Mexico. When the opportunity to go cage diving to view Great White sharks presents itself, Kate jumps at the chance while Lisa takes some convincing. Lisa finally agrees and the girls soon find themselves two hours off the coast and about to come face-to-face with nature's fiercest predator. But what should have been the trip to end all trips soon becomes a living nightmare when the cage breaks free from the boat and plummets to the ocean floor. Kate and Lisa find themselves trapped deep underwater with less than an hour of oxygen left in their tanks. They must somehow work out how to get back to the safety of the boat above through 47 meters of shark-infested waters.