Playing At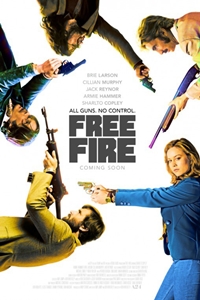 Free Fire
(R)
Rated NR
This movie has not yet been rated by the MPAA.
Rated G
Nothing that would offend parents for viewing by children.
Rated PG
Parents urged to give "parental guidance." May contain some material parents might not like for their young children.
Rated PG-13
Parents are urged to be cautious. Some material may be inappropriate for pre-teenagers.
Rated R
Contains some adult material. Parents are urged to learn more about the film before taking their young children with them.
Rated NC-17
Clearly adult. Children are not admitted.
Release Date:
April 21st, 2017
Run time:
1 hr. 25 min.
Director:
Ben Wheatley
Genres:
Action/Adventure, Suspense/Thriller
Starring:
Brie Larson, Cillian Murphy, Armie Hammer, Michael Smiley
An arms deal that goes spectacularly and explosively wrong. Justine has brokered a meeting in a deserted warehouse between two Irishmen and a gang led by Vernon and Ord, who are selling them a stash of guns. But when shots are fired during the handover, complete pandemonium ensues, with everyone at the scene suddenly thrust into a heart-stopping game of survival.