Playing At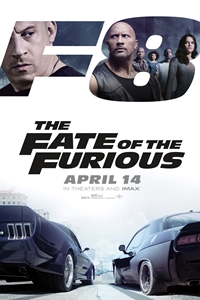 The Fate of the Furious
(PG-13)
Rated NR
This movie has not yet been rated by the MPAA.
Rated G
Nothing that would offend parents for viewing by children.
Rated PG
Parents urged to give "parental guidance." May contain some material parents might not like for their young children.
Rated PG-13
Parents are urged to be cautious. Some material may be inappropriate for pre-teenagers.
Rated R
Contains some adult material. Parents are urged to learn more about the film before taking their young children with them.
Rated NC-17
Clearly adult. Children are not admitted.
Release Date:
April 14th, 2017
Run time:
2 hr. 16 min.
Director:
F. Gary Gray
Genres:
Action/Adventure
Starring:
Vin Diesel, Dwayne Johnson, Jason Statham, Michelle Rodriguez
Now that Dom and Letty are on their honeymoon and Brian and Mia have retired from the game-and the rest of the crew has been exonerated-the globetrotting team has found a semblance of a normal life. But when a mysterious woman seduces Dom into the world of crime he can't seem to escape and a betrayal of those closest to him, they will face trials that will test them as never before.

From the shores of Cuba and the streets of New York City to the icy plains off the arctic Barents Sea, our elite force will crisscross the globe to stop an anarchist from unleashing chaos on the world's stage... and to bring home the man who made them a family.