Playing At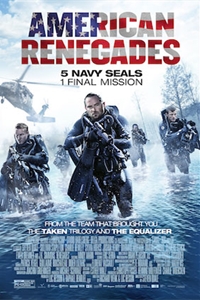 Renegades
(PG-13)
Rated NR
This movie has not yet been rated by the MPAA.
Rated G
Nothing that would offend parents for viewing by children.
Rated PG
Parents urged to give "parental guidance." May contain some material parents might not like for their young children.
Rated PG-13
Parents are urged to be cautious. Some material may be inappropriate for pre-teenagers.
Rated R
Contains some adult material. Parents are urged to learn more about the film before taking their young children with them.
Rated NC-17
Clearly adult. Children are not admitted.
Release Date:
December 31st, 1969
Run time:
1 hr. 45 min.
Director:
Steven Quale
Genres:
Action/Adventure, Suspense/Thriller
Starring:
J.K. Simmons, Sullivan Stapleton, Ewen Bremner
RENEGADES is about a team of Navy SEALs on assignment in war-torn Europe who discover a treasure of gold at the bottom of a lake -- rumored to be worth hundreds of millions of dollars. In an effort to help the locals, they go rogue and engineer a heist to retrieve the gold and return it to its rightful owners. But in a deadly turn of events, they are detected by the enemy and left with only 10 hours to carry out their mission.