Playing At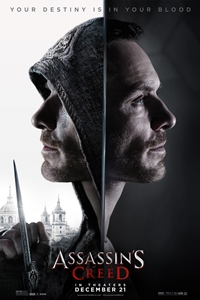 Assassin's Creed
(PG-13)
Rated NR
This movie has not yet been rated by the MPAA.
Rated G
Nothing that would offend parents for viewing by children.
Rated PG
Parents urged to give "parental guidance." May contain some material parents might not like for their young children.
Rated PG-13
Parents are urged to be cautious. Some material may be inappropriate for pre-teenagers.
Rated R
Contains some adult material. Parents are urged to learn more about the film before taking their young children with them.
Rated NC-17
Clearly adult. Children are not admitted.
Release Date:
December 21st, 2016
Run time:
1 hr. 55 min.
Director:
Justin Kurzel
Genres:
Action/Adventure
Starring:
Michael Fassbender, Marion Cotillard, Jeremy Irons, Brendan Gleeson
Through a revolutionary technology that unlocks his genetic memories, Callum Lynch experiences the adventures of his ancestor, Aguilar, in 15th Century Spain. Callum discovers he is descended from a mysterious secret society, the Assassins, and amasses incredible knowledge and skills to take on the oppressive and powerful Templar organization in the present day.