Playing At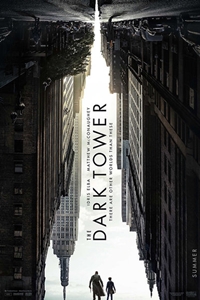 The Dark Tower
(PG-13)
Rated NR
This movie has not yet been rated by the MPAA.
Rated G
Nothing that would offend parents for viewing by children.
Rated PG
Parents urged to give "parental guidance." May contain some material parents might not like for their young children.
Rated PG-13
Parents are urged to be cautious. Some material may be inappropriate for pre-teenagers.
Rated R
Contains some adult material. Parents are urged to learn more about the film before taking their young children with them.
Rated NC-17
Clearly adult. Children are not admitted.
Release Date:
August 4th, 2017
Run time:
1 hr. 34 min.
Director:
Nikolaj Arcel
Genres:
Action/Adventure, SciFi/Fantasy
Starring:
Idris Elba, Matthew McConaughey, Tom Taylor, Claudia Kim
There are other worlds than these. Stephen King's The Dark Tower, the ambitious and expansive story from one of the world's most celebrated authors, makes its launch to the big screen. The last Gunslinger, Roland Deschain (Idris Elba), has been locked in an eternal battle with Walter O'Dim, also known as the Man in Black (Matthew McConaughey), determined to prevent him from toppling the Dark Tower, which holds the universe together. With the fate of the worlds at stake, good and evil will collide in the ultimate battle as only Roland can defend the Tower from the Man in Black.